Santa Clara Valley Thunderbirds (SCVT)
Founded in 1972 t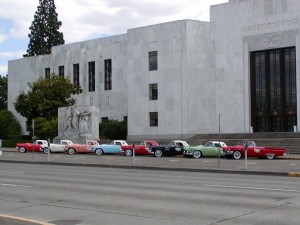 o provide a focal point for "Early Bird" owners who wish to further their enjoyment of ownership of their '55, '56 and '57 T-Birds. This fellowship has been fostered through the years and has developed an active membership involved in the club's current activities and future growth.
SCVT is Chapter #50 in the Classic Thunderbird Club International (CTCI) and averages around 100 families in membership making SCVT one of the largest Clubs within CTCI.
SCVT members live in a wide area but are concentrated in Santa Clara, San Mateo and Alameda counties all south and east of San Francisco surrounding San Francisco Bay.
SCVT is a very active organization!
With about 40 Club-Sponsored events annually, SCVT events include a combination of monthly meetings, parades, homecomings, tours, overnighters, displays, annual picnic, holiday and award parties.
Interest & Camaraderie is more important than car ownership.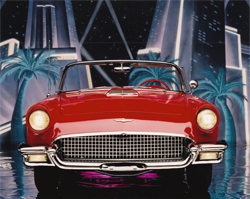 Interest in these great cars is of prime importance. But, the condition of your T-Bird is not that important. In fact, you do not necessarily have to own a T-Bird to be a member and participate in events. If you have a T-Bird and it is not in concours condition, you're welcome. If you intend to only have a driver, you're welcome. If you have a prime, 100 point restoration, you're welcome.
If you need assistance in maintaining or restoring your T-Bird, many members are knowledgeable and capable in restoration & repair or in getting parts and are enthusiastic to help.
Most of the cars owned by our members are "drivers" even though many do win awards when judged to concours standards.
As a member of SCVT:
You will be able to informally exchange information at our monthly meetings and receive numerous technical tips in our award winning monthly newsletter, the SCVT Fan. The Fan as well as our web site will keep you informed on our activities, parades, displays and other club members.
We Invite You (Once we are able to have live meetings again)!
To attend one of our monthly club meetings located in the Baltic Room at West Valley College in Saratoga, CA. Meetings are held the 2nd Friday of each month, except for December, and start at 7:30 PM.
The address is 14000 Fruitvale Avenue. You can also send us mail at SCVT, P.O. Box 26103, San Jose, CA 95159.